The Tankbusters range of fuel polishing systems, available in our on-line shop, is designed for all applications using red diesel/white diesel but specifically in:-
Boating

Agriculture

Heavy Plant Industry

Holding Tanks

Commercial Vehicles
In fact whether you use Red or White diesel, Hydraulic Oil or Central Heating Fuel, Tankbusters have the equipment to clean your tank & fuel
The Tankbusters range is derived from equipment used  on a much larger scale for applications in:
Heavy Plant

Oil & Refineries


The MOD

NHS

Mining
All of these industries require clean uncontaminated fuel to ensure that they can work effectively and reliably.
By scaling down the equipment, but using the same filtration filters. The Tankbusters range of equipment is able to achieve removal of all contamination to a level of 1 micron or less (that's better than required by Formula One Racing Cars!) and removing water to below 100 ppm (parts per million).
THAT'S FUEL CLEANING AT ITS BEST.
By filtering out:
Water
The Diesel Bug
Contamination
You can be sure that you have clean and water free fuel.  Your engine will run more smoothly, be more economical and with less wear on all moving parts.
The Tankbusters range has the main families:
The

"TROJAN" 12 volt

ideal for smaller tanks and better in confined areas.
The Tankbusters "CENTURION" 230 volt Filtration Unit
The Tankbusters "MINI CENTURION" 230 volt Filtration Unit

The SHERMAN-2 range 230 volt

is designed for larger tanks either for static use or on a sack barrow  giving great manoeuvrability between tanks.   

110 volt units

 are also available.
But that's not all!

The equipment can also clean hydraulic oil and central heating fuel.

So in summary – 

Clean fuel, with no waste!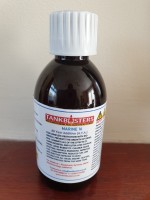 The Tankbusters All Year Additive 250ml
The Tankbusters All Year Additive (A.Y.A.)

Tankbusters Engines are reliable and economical – unfortunately these benefits can soon be lost unless the fuel system is maintained. Excessive exhaust smoke, increased fuel consumption, rough running, poor cold-starting, dirty injectors and blocked filters are primarily caused by contamination inside the engine or the existence of bacteria within the diesel fuel.

With the introduction of bio-diesel & ULSD things can only get worse, especially with regards to Diesel Bug and lubrication. All Year Additive (A.Y.A.) – is a highly sophisticated package designed to quickly, thoroughly and safely clean all marine diesel engine fuel systems – turning carbons, fats, acids and other contaminants into a harmless liquid form, which is then burnt through the normal combustion process. It releases combustion rings, frees injectors and valves, and dissolves contaminants completely. The important benefits from using this maintenance product are:-

Stops diesel Bug

Cleans injectors and filters

Protects fuel pumps

Contains anti-foam

D emulsifies water from fuel

Increase cetane rating

Gives easier starting

Improves fuel consumption

Reduces smoking
Diesel Bug is bacterial contamination, a build up of slime – anything from pale yellow to black – that shows up in the water separator of filter. Engine symptoms include poor starting, fuel starvation, erratic running and black smoke from the exhaust. Diesel Fuel Complete incorporates a highly effective diesel fuel preservative for the control and prevention of microbiological contamination in diesel fuel.

All Year Additive (A.Y.A.) is a sophisticated blend of petrochemicals that will replace the natural performance additives removed along with the sulphur from diesel fuel during the process of creating ULSD and LSD. All Year Additive (A.Y.A.) also contains premium lubricity agents which comprehensively protect mobbing parts from wear.

A clean engine fuel system will run better, reduce harmful emissions and black smoke and give improved fuel consumption. Without a clean injection system the injectors will not produce the ultimate fine atomisation required for proper combustion of the fuel.

All Year Additive (A.Y.A.) raises the cetane rating of the fuel; the lower the cetane number, the longer the ignition delays that can produce diesel knock along with incomplete and wasteful burning of fuel, Fuels with high cetane numbers burn more quickly and completely, resulting in smoother-running engines with less power lag, lower emissions, easier engine starting and better fuel consumption.

Suitable for diesel engines types and diesel fuels.